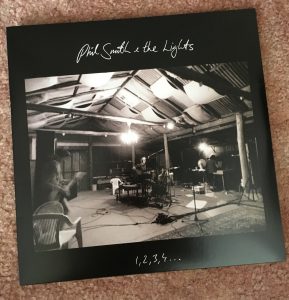 So!!! We finally got the new vinyl back, '1,2,3,4…'. 12 inches of pure '70's kickass country tinged rock 'n'roll. Recorded live in 3 days in an old dairy barn with a 6 piece band, comprising drums, bass, Hammond organ, piano, Wurlitzer, Fender Rhodes and 2 guitars, this record boasts a collection of 9 songs – 'any of which wouldn't be out of place on the soundtrack to the classic Texas documentary Heartworn Highway.'* "It's like reading a book of short stories set to sound," is how one critic put it, with the album receiving 4 stars from Brisbane's The Courier Mail.
Rob Dickens, of online music blog Music Mainline, described the new album as "similar to classic Bob Dylan, The Band or Neil Young with Crazy Horse, a beautifully 'loose' vibe that is foot-tapping and brain-engaging.
'1,2,3,4…' is available to purchase through the BUY button on this site,  on 12 inch vinyl (w/ a digital download) or the slightly more modest CD. * Dennis Atkins, The Courier Mail.